Production & Project Management
·
Thunderful Göteborg
Project Coordinator
Thunderful development consists of 4 creative studios throughout Sweden. We make polished gems, focusing on products in the double-A range in creative mid-sized teams.
About the role:

We are looking for a Project Coordinator to act as a key player in the production team. Your main priority is ensuring that all of production is moving forward, that deadlines and milestones are set and met, and that any concerns or issues are flagged. You will be reporting directly to the Lead Producer and Head of Development, informing them about the ongoing development and progress of the projects. A strong knowledge of the process of making games and being a competent leader with superb communication skills is a must for succeeding in this role.
This position requires EU citizenship or a Swedish work permit.
The position is full-time and based in our office in Gothenburg.
Responsibilities Include:
Update & track schedules, roadmaps, and milestones, ensuring requirements and product goals are met for all projects.
Support with establishing and following up on project budgets to ensure that projects are kept within budget.
Support Producers, associate producers, and Leads in different disciplines with scheduling and resource management for multiple projects.
Participate/lead meetings with Producers, HR/Recruiter, and other stakeholders to inform about and coordinate resource needs and opportunities within the organization.
Support with Milestone planning and execution and facilitate successful renegotiations of its deliverables if needed.
Support Production leadership and facilitate and encourage cross-discipline communication and cross-project- and cross-studio cooperation.
Requirements: 
Minimum 5 years of experience as a Producer, Associate/Assistant Producer, or Project Manager within game development.
Experience from at least two shipped titles within a multi-project environment.
Experience in project management and agile methods and tools etc.
Experience managing a team through a full production cycle
A good understanding of cross-discipline management
Enthusiastic, Solution-oriented, and good at motivating people.
Ability to prioritize with tight deadlines and follow through
Excellent verbal and written English skills
Bonus points:
Experience in both AAA and Indie development
Experience from working as an Executive Producer
Experience in JIRA or similar project management software
Our perks:
Collective Agreement - Tekniktjänsteavtalet (+ union club)

Pension plan (tjänstepension)
Paid overtime
Flexible work hours
Yearly wellness grant (friskvårdsbidrag)
Occupational Health Care
Weekly Wellness activity hours - Two hours per week!
About Thunderful:

Thunderful Development is a studio that is part of Thunderful games, and was formed by several indie companies coming together to make something more significant than they could have done independently.
Today, we're roughly 140 people in team sizes of 15-35 people making amazing games in four locations; Gothenburg, Skövde, Malmö & Karlshamn. The teams within have developed the award-winning SteamWorld series, known for its frequent genre-hopping and inclusive design, and more recent AA games like The Gunk, Lost in Random, and other un-announced but equally charming titles.

Our majestic Thunderful Games HQ in Gothenburg towers over all surrounding buildings except its slightly taller neighbors (we'll get there someday). Please don't mistake it for a typical office! Inside you'll find a custom-built game dev powerhouse with some of the industry's very best. The Gothenburg teams have been at it for over two decades and worked their way to the top with the SteamWorld series and EA Originals like Fe and Lost in Random.
From our rooftop terrace, we overlook the bustling city center with its canal, delightful eateries, a rich cultural life, and a fascinating past – all within walking distance!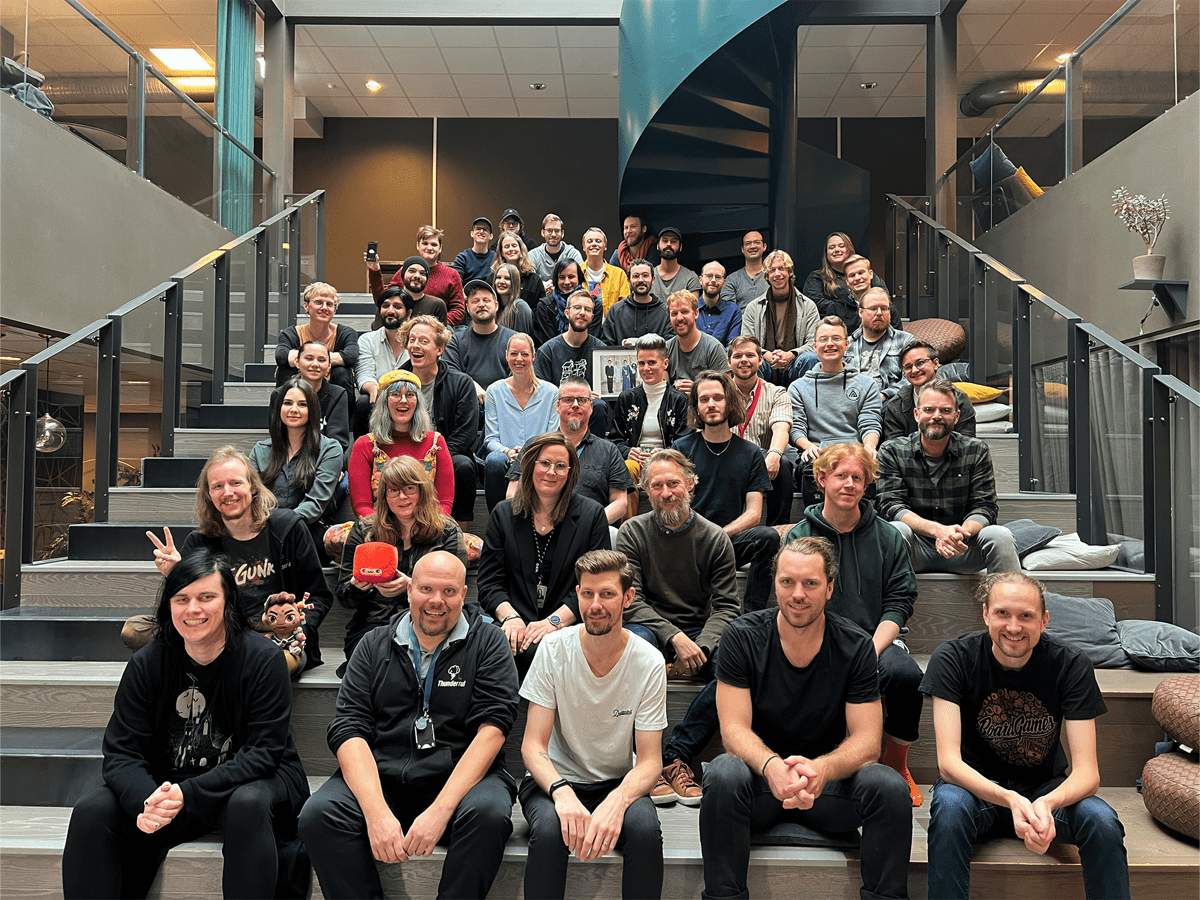 Contact
Got questions about the position or Thunderful in general? Please contact:
Pierre Dahlgren
Talent Acquisition Manager - Thunderful Games
E-mail: pierre.dahlgren@thunderfulgames.com
Phone: +(46) 076-027 82 10
You can also send your inquiries to our Union club:
Email: unionen@thunderfulgames.com

Department

Production & Project Management

Role

Project Coordination

Locations
OUR PERKS
Collective agreement (Tekniktjänsteavtalet)

- Paid Overtime


- Pension Plan (Tjänstepension)


- Parental Leave Additional Pay

Flexible work hours

Yearly Wellness Allowance (friskvårdsbidrag)

In-house gym/fitness facilities (dependent on location)

Weekly Wellness activity hours

Occupational Health Care

Paid Volunteer day

... and more!
Our offices
Thunderful Development operates in the beautiful country of Sweden, with teams in four cities. Our HQ stands tall in Gothenburg, the nation's second-largest city. A few hours away by train, you'll find our other gorgeous offices in Skövde, Malmö, and Karlshamn.
A "few" more hours away by train, you'll find our siblings in the UK, Germany and Spain.
All facilities sport state-of-the-art tools and passionate teams hard at work on the best games you've yet to play.
Production & Project Management
·
Thunderful Göteborg
Project Coordinator
Thunderful development consists of 4 creative studios throughout Sweden. We make polished gems, focusing on products in the double-A range in creative mid-sized teams.
Loading application form
Already working at Thunderful?
Let's recruit together and find your next colleague.